Wickelschuh für Wintertage - Vibram® präsentiert den neuen Furoshiki The Wrapping Sole "Oslo"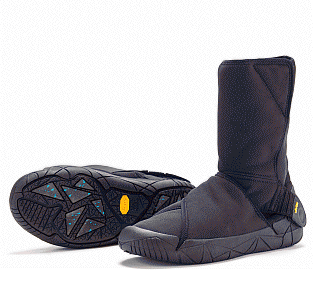 Vibram®, der Weltmarktführer bei High-Performance Sohlen stellt
seinen neuen FUROSHIKI The wrapping sole "Oslo" aus der HW 2018/19 Kollektion vor.
Inspiration für den neuen Vibram® FUROSHIKI The Wrapping Sole "Oslo"
war der aktive Lebensstil der Norweger. Um diesem gerecht zu werden,
präsentiert Vibram® zwei neue Features: Zum einen wurde die Sohle
optimiert und mit der Vibram® Arctic Grip Technologie versehen, welche
für idealen Halt auf nassem Eis sorgt. Zum anderen ist das Obermaterial
wasserdicht. Damit steht Ausflügen bei eisigem, feuchten Wetter nun
nichts mehr im Weg.
Mit dem Furoshiki Modell "Oslo" setzt Vibram® seine multiethnische Reise
durch die Welt fort. Die Merkmale der einzelnen Länder spiegeln sich
dabei in den Materialien und Mustern der Schuhe wieder. Die
Winterkollektion orientiert sich an Regionen mit kühlen Temperaturen, die warmes Schuhwerk erforderlich machen. So
ergänzt der Vibram® FUROSHIKI The Wrapping Sole "Oslo" die bisherige Winterkollektion mit Modellen, die von New
York, Finnland, Russland oder Schottland inspiriert sind.
Das einmalige Konzept im Schuhsektor hat seinen Namen von der traditionellen, japanischen Kunstform "furoshiki". Sie
bezeichnet die galante Art des Verpackens, Einwickelns und Tragens verschiedenster Dinge mit einem Stück Stoff. Wie
ein quadratisches Tuch um Geschenke, lässt sich der Schuh um den Fuß wickeln und umschließt ihn passgenau. Damit
werden eine individuelle Anpassung und ein Maximum an Komfort ermöglicht. Neben der perfekten Passform überzeugt
der Wickelschuh durch hohe Flexibilität, während die Vibram®-Sohle verlässlichen Schutz und Halt gewährleistet.
Obermaterial: Wasserdicht




Sohle: Vibram® Icetrek 2 mit Vibram® Arctic Grip



Weitere Informationen unter www.vibram.com


Über Vibram

Vibram® ist der Weltmarktführer im Bereich High-Performance Gummisohlen, die vor allem in den Kategorien Outdoor, Freizeit, Arbeitsschutz, Mode und Orthopädie Anwendung finden. Seit 80 Jahren steht das gelbe Achteck weltweit für Qualität, Performance, Sicherheit und Innovation in der Schuhindustrie. Mit internationalem Hauptsitz in Albizzate (Varese), Italien, produziert Vibram® mehr als 40 Millionen Sohlen jährlich, legt mehr als eine Million Testkilometer zurück, ist in 120 Ländern vertreten und besitzt Produktions- sowie Forschungsstandorte in den USA, China, Japan, Brasilien und Italien.