Outdoor News > November 2017
CLARKS - STAR WARS KOOPERATION - STRONGER
THAN SHE
KNOWS
KYLO REN
In dieser Saison stellt Clarks eine einzigartige Star Wars™ - Clarks Kooperation exklusiv für Frauen und Mädchen vor -
Rechtzeitig zum Kinostart von Star Wars: The Last Jedi am 14. Dezember 2017.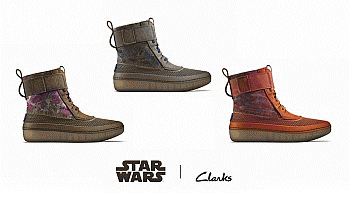 Star Wars ist ein Game-Changer und ebnet dem Weg für die notwendige Repräsentation eines positiven, natürlich-weiblichen
Vorbilds. Rey ist sich selbst treu, kompromisslos und steht für Stärke und Macht, ohne Einschränkungen oder Entschuldigungen.
"Eine Frau, die von niemandem Bestätigung braucht, ist die gefürchtetste Person der Welt". Mohadesa Najumi
Force of Nature. Eine Kollektion, die wegweisende neue Materialien, Konstruktionen und Technologien für höchsten Komfort
einsetzt. Sie verspricht ihren Trägerinnen eine fortschrittliche Fußbettstruktur, die für optimalen Komfort, Flexibilität und
Haltbarkeit sorgt. Die enge Passform und das High-Top-Design schützen die Knöchel, während das weiche Fleece-Futter,
zusammen mit dem innovativen Schnürsystem, den Fuß warm und trocken hält und zusätzlichen Schutz vor
Witterungseinflüssen bietet.
Reys positive Rollendarstellung der Frau in der modernen Welt wurde zu einer bedeutenden Inspirationsquelle in der
Zusammenarbeit und ist eine lebendige Verkörperung des Markenethos – eine Plattform für freie Menschen, die sich selbst treu
bleiben. Menschen, die sich in ihrer eigenen Haut wohlfühlen und von Authentizität inspiriert werden.
Bleib dir selbst treu – Du bist eine Kraft, mit der man rechnen muss.
Die Star Wars - Clarks Kollektion ist ab dem 1. Dezember 2017 in ausgewählten Geschäften und
online erhältlich.
Clarks ist bekannt für Premium-Qualität, Style mit Komfort und innovative Technologien. Als weltweit größter
Straßenschuhhersteller verkauft das britische Schuhlabel jährlich über 50 Millionen Paar Schuhe in 35 Ländern. Seit der
Gründung durch die Brüder Cyrus und James im Jahr 1825 ist der Hauptsitz in Street, Somerset in England
Weitere Informationen unter www.clarks.de